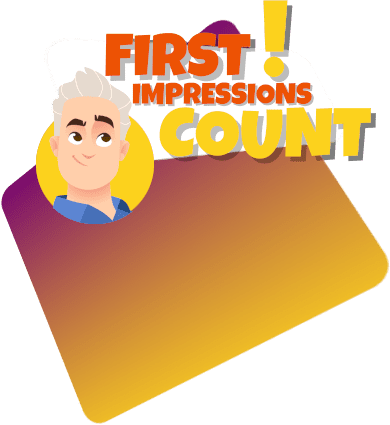 5ms
It only takes 5 milliseconds for users to form an opinion about your website that determines whether they'll stay or leave. (Source: Google, 2012)
75%
75% of consumers judge a company's credibility based on the its website design. (Source: Stanford Web Credibility Research Lab)
88%
88% of customers who have a bad experience with a website and are less likely to return. 40% will buy from a competitor (Source: Forbes, 2019).
Make it easy,
make it count!
I provide everything you need to create a powerful website to captivate your audience, promote quality brand, and accelerate connections.
Don't waste time and money managing multiple vendors, steep learning curves or troubleshooting problems. From back-end support through all stages of development and beyond, I got your back!
Search no more! You've found your One-Stop-Shop for all your website needs.
captivating and professional design.
SEO and performance optimization.
fully responsive  – mobile first approach.
stable WordPress platform.
premium, secure web-hosting with dedicated resources.
e-commerce integration.
integration of email, social media, and live chat marketing channels.
focus on user experience and accessibility.
save time and money with my one-stop-shop approach.
make a powerful 1st impression.
unrestricted customization and brand showcasing (unlike social media pages).
streamlined project management to get you up and running quickly.
security best practices to protect your website and build client trust.
powerhouse partner service – 100% passion and commitment to your success.
23%
23% of digitally mature companies are more profitable than their less mature peers. (Source: Forbes, 2019)
900B
900 billion dollars was wasted on unsuccessful digital initiatives in 2018.  (Source: Forbes, 2019)
64%
64% of digital-first companies more likely to achieve their business goals. (Source: Forbes, 2019)
Provide
direction and focus
for your valuable time and energy. In a world of infinite digital marketing possibilities, its about communicating the right message, using the right tactic, at the right time.
With over 20+ years of successful strategy leadership, I'll work with you to create a simple and effective plan that you can trust and easily manage. Get ahead of the game to ensure a positive impact on your bottom line!
A fancy way of saying – "Planning Your Online Success!"
Digital Media Channel Analysis
powerful insights on your target audience –  who they are and what makes them tick.
promote your brand to speak to your audience's values, wants and needs.
reduce waste and unnecessary expense by focusing on the right tactics at the right time.
increase your ROI.
set goals and measure progress along your journey to success.
strategic discovery session(s).
audience persona builds – both demographic and pyschographic.
voice and archetype definition.
analysis of most effective social media channels to achieve your goals.
digital strategic plan output with goals, objectives and tactics.
tiered plans tailored to your budget and needs.
5x
Loyal customers are 5x more likely to buy again and 4x more likely to refer the brand to family and friends. (Source: Forbes, 2019)
90%
90% of consumers say that positive online reviews influence their buying decisions. (Source: Dimensional Research)
42%
42% of social media users are likely to share negative experiences with brands online. (Source: Forbes, 2019)
Digital marketing is one of the most versatile and cost-effective strategies small businesses and non-profits can use to cultivate relationships with their target audience.
Together we can leverage "the right" online channels to create buzz, accelerate connections and drive results. Take your brand to the next level!
Its a fact – your audience is on social media. Use it to Build an Army of Advocates!
Social Media Ad Campaigns
Email Marketing Campaigns
targeted social media advertising and campaigns.
email marketing automation.
content marketing (blogs and posts).
chatbot marketing and website integration.
Facebook and Google ads.
A/B effectiveness testing.
monthly campaign reports.
increase brand recognition and loyalty.
increases inbound traffic to your website.
higher conversion rates than traditional marketing avenues.
cost effective with high ROI potential.
consumers are highly influenced by recommendations on social media.
efficiently communicate with customers/clients.
gain new in-depth customer/client insights.
50%
50% of users are more likely to make purchases and share personal information if they trust their data is safe. (Source: GlobalSign Research)
3,285
3,285 Google search algorithim changes in 2018, averaging 9 per day. (Source: Google, 2019)
30000
30,000 new websites are hacked everyday – majority are legitimate small businesses.(Source: Forbes, 2019)
Now that you've launched your top-notch website, you'll want to keep it current with changing technology, proactively defend it against threats, and evaluate its effectiveness against your goals.
Skilled in website optimization, security best practices, analytics evaluation, and online marketing, I will be your digital guardian angel ensuring your website stays safe, secure and effective!
Rest Easy ! Keep your website secure and humming with a Protect and Prosper Plan.
Infrastructure Maintenance
SEO Monitoring & Nurturing
Design & Development Plans
build audience trust by proactively protecting and safegaurding sensitve data.
keep current with changing technology to ensure your website remains relevant and optimized.
gain timely insights into your website's performance and effectiveness against goals.
budget predictable monthly allowance for website development enhancements to maximize returns.
peace of mind – insurance in the event of catastrophic loss.
data protection and backups.
peristant security monitoring.
timely theme and plugin updates.
monthly performance and maintanance reports.
SEO monitoring and nurturing.
disaster recovery.
tiered plans to suit your requirements and budget.
What's Your Next Webventure?

Let's Do It Together !
Drop me a line if you have any questions or comments ... or heck, just to say hello! Perhaps you could use some helpful tidbits of free web design or digital marketing advice, yes? I'm here to help and I'd love to hear from you!